Cocoa Horizons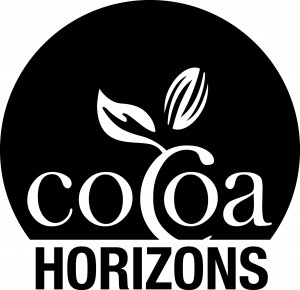 What is Cocoa Horizons?
Van Delft the Peppernutfactory finds it important to have a meaningful impact on the welfare of cocoa farmers and their communities. Cocoa Horizons is an impact-driven program focused on the prosperity of cocoa farmers and is helping to create self-sufficient farming communities that protect nature and children.
The farmers who make our chocolate have access to education, health care and safe drinking water through Cocao Horizons, which means we stimulate meaningful change effectively and efficiently.
Objective
The goal of Cocao Horizons is to improve the livelihoods of cocoa farmers and their communities by promoting sustainable, entrepreneurial agriculture, improved productivity and community development, which protect nature and children.
The challenges facing cocoa farmers and their communities
Cocoa is usually produced by small farmers in remote areas around the equator. Most of the world's cocoa comes from West Africa, an area facing major sustainability challenges; limited knowledge and understanding of good agricultural practices; obsolete farms and depleted land; the unpredictable effects of climate change; and a lack of funding opportunities to invest in productivity activities.
Cocoa communities often lack basic infrastructure and services, including schools, vocational training, access to safe water and basic health services. Gender imbalances also have an impact on the sustainability of cocoa farming communities, with women having limited opportunities to build skills and generate income.
Continuous improvement and assistance
Farming data is collected through Cocoa Horizons to understand the unique needs of each farmer, to develop customized business plans to improve livelihoods, and measure the impact of activities funded by the Cocoa Horizons Foundation. Impact data is reviewed annually to ensure that the Cocoa Horizons methodology prescribes the best approach to building self-sufficient farming communities that protect nature and children. If the expected impact is not met, the Cocoa Horizons Foundation will continuously improve its approach to meet its productivity, community and environmental commitments.
More information about Cocao Horizons
https://www.cocoahorizons.org/
YouTube: https://www.youtube.com/watch?v=QUVp91pNp7M